In the thick of news action
By Allan Koay
MSC Online host and broadcast journalist Joanna Chan is on a roll. Ever since returning from her studies in Australia in 1998, she has immersed herself in the world of broadcast journalism, doing everything from producing, reporting and scriptwriting on shows like Dateline Malaysia, Malaysia's Aspirations and Achievements and MSC Online. All this from someone who was discouraged at a young age from becoming a journalist.
"When I was a kid, my grandmother would tell me, 'Of all professions, you should never choose to become a journalist,'" says Chan.
"And she would tell me, in Chinese, that I would be such a busybody and everyone would hate me and throw stones at me!
"To me, that was a challenge already. It's just so exciting because if you're an inquisitive person and you always want to know about things, then being a journalist is the best profession."
But Chan, who studied radio journalism at Swinburne University, admits to not knowing a single thing about journalism when she started out. In fact, she was told she had a voice that was too high-pitched for television.
Her first stint was on Dateline Malaysia, the talk show that featured personalities discussing everything from politics and social issues to economics, which she helped produce and for which she did research.
"When I got back here, it was a bit of an economic chaos and the situation wasn't very pretty," Chan explains.
"But the good news was there was an avenue that I could venture into, something I knew best, which was journalism.
"That was the first time the government and the opposition could sit together and debate issues. And that opened my eyes to many things.
"The experience working with Dateline Malaysia was tremendous. I did a lot of research and that's how I learnt. I've never stopped learning since then."
But Chan confesses that she was initially hesitant about coming home after spending four to five years in Australia.
One of the things that deterred her from returning was the economic and political situation. But that proved to be a valuable lesson too.
"The information that went abroad wasn't very positive," she explains.
"But I'm glad I got back. Being in this line, I realised that news can be biased.
"In Australia, it was definitely biased. I had people coming up to me and saying 'I'm so sorry that you're from Malaysia!'
"If I were in Australia three years ago with the experience I have now, I would probably be defending my country and myself, because the situation was not as gloomy as people pictured it to be."
After Dateline Malaysia, the next big thing that came along for Chan was the series on the world of technology, MSC Online, which Chan co-hosts with Wan Zaleha Radzi and Paula Malai Ali.
The show features issues, innovations, success stories, principals and products of the IT world, and goes globe-trotting for interviews with personalities in the United States, Hong Kong, India, China and elsewhere.
Chan explains that the initial idea was to avoid doing an IT programme like what was already airing on the other stations – those that tell you what a PC and a mouse are.
"It's in a way heading towards the vision of our Prime Minister," she says
"He foresaw that the dot-com bubble will not grow to such an extent that it will pop soon.
"We saw that as well and tried to relate an idea of what technology is and what its underlying factors and implications are."
For MSC Online, Chan does research as well as the scriptwriting and post-production work. She's the presenter on a show about technology, but is she a techie or even Internet-savvy?
"A lot of people ask me that, especially guys," she says
"I have to admit that before MSC Online, what I knew about IT was very, very shallow. After MSC Online, I was kind of thrown into this whirlwind of the IT world.
"So I had to learn, and that's when I read a lot. I surfed a lot more too."
If the doubts about her knowledge of technology come mostly from men, then is the world of technology still predominantly a male domain?
"I think so," she replies. "I don't see many of my female friends actually interested in IT.
"To guys, they don't see three personalities presenting an IT programme.
"It's like 'Wow, do they really know what they're talking about?' But if they talk to us about it, they'll see that we do know what we're talking about.
"To us, it's also a selling point. You have three girls presenting and people will want to watch to see if we know what we're talking about!"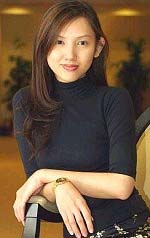 NO REGRETS: Chan was discouraged by her grandmother from becoming a journalist. But today,she`s enjoying the challenges of her job.
The 26-year-old Chan is also an anchor reporter for another show, Malaysia's Aspirations and Achievements. But an upcoming new series has her going around the world looking for Future Cities.
"It's a really grand project," she says. "We're in the midst of production already.
"There are 13 episodes in the first season, and we will look at 13 sustainable cities in the world. One of them is Kuala Lumpur
"It's not a travelogue. It tells people how a city can be sustained in the future, whether it can meet the needs of its citizens, of the environment, safety, etc.
"This is a big, big challenge, because we're talking about the future, things we don't know."
When she's not interviewing famous people like Sun Microsystems' chief scientist Dr John Gage, ex-president Fidel Ramos, World Trade Organisation director-general designate Dr Supachai Panitchpakdi or Deputy Prime Minister Datuk Seri Abdullah Ahmad Badawi, Chan loves to indulge in physical sports like rock-climbing and roller-blading.
This eldest of four siblings even tried kick-boxing!
"I like to try out sports that's unconventional," she says.
"If I want to exercise, it'd better be fun! To me, it's stress therapy whenever I go out and shop! In a way, it's like rewarding myself."
Born and bred in Kuala Lumpur, Chan studied at Bukit Bintang Girls' School, which has since been demolished. She laments not having an alma mater to go back to.
"I'm very unhappy about that!" she says, but with a laugh. "It's terrible. All the BBGS girls were coming up with a petition to save the school. With BBGS, you'll always feel an attachment to the school. That's where you're from, where you learned things.
"Your whole childhood memory is wiped out.
"The thing is, you'll always be passing by the site where it stood whenever you go shopping! Well, that's a pity."
As for the future, Chan doesn't really know what it holds for her, but she harbours the ambition of becoming a correspondent in the thick of the action.
"It's definitely very challenging, and it's very, very demanding," Chan says of her job. "Sometimes, in the small corner of my heart, I ask myself if I'm really cut out for this. But it's part of my ambition to really carry this to whatever heights I can reach.
"If I can, I would love to be a war correspondent or something like that, to be there and get the feel of what it's like. That's one experience that only a journalist can get, because you have the pass to anywhere in the world."