Bukit Bintang once a sleepy hollow
By C. Celestine
THE Bukit Bintang of today is a bustling commercial haven with shopping malls touting designer labels, five-star hotels and dressy sidewalk cafes, restaurants, bars and nightspots.
Elena Maude Cooke, 78, a former student and headmistress of Bukit Bintang Girls School (BBGS) recalled the time when things were far less lively.
It was, for much of the last century, a sleepy hollow where much of the activities centred around the school.
"It was a sparsely populated area on the outskirts of KL with few landmarks except for the school, on the the northern fringe of Jalan Bukit Bintang and Jalan Sultan Ismail,'' said Cooke, or Ms Cooke to thousands of her students, during a recent interview at her home in Ampang Hilir.
The school had its humble beginnings in Brickfields when it was then known as the Chinese Girls School, but moved to this location in 1930 with 250 students.
"It was founded in 1893 by a missionary from the Brethern movement, Betty Langlands, who wanted to give girls the same educational opportunities that the boys had,'' she said.
The land fronting the school, where Star Hill is presently located, was vacant.
A few years after the school was established, huts built by the Chinese community sprang up on the vacant plot.
Later in the 1950s and 1960s, more houses were built from Jalan Gading to Jalan Imbi, which soon turned the area into a housing estate.
There were hardly any supermarkets and shops in the area, recalls Cooke.
"Those who could afford it did their shopping in Whiteaways or Robinson's but there were sundry and textile shops owned by locals like Naina Mohamad Ali,'' she said.
People used to have their groceries delivered on bicycles and later motorcycles, she said.
There were many food stalls which later turned into cafes and itinerant vendors made their rounds selling iceball, nyonya cakes and satay.
She does not remember the Bukit Bintang Park very well except that it used to have Chinese opera, a dance hall and a boxing ring besides plenty of food stalls.
"But it never really recovered after the Second World War. It started to go downhill and by the late 1960s it closed down,'' Cooke said.
Cooke had originally intended to do medicine after completing her Senior Cambridge and had obtained a Straits scholarship to the Medical College in Singapore in 1938.
But the War came and she returned home in 1942 "to plant tapioca and live under Japanese rule''.
When the War ended, the scholarship was no longer available and she started teaching at her alma mater in 1945.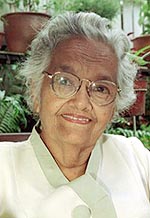 Cooke...wanted to do medicine after Senior Cambridge.
There were 365 girls studying at BBGS then. In 1958, she became its first local headmistress and was known to be a strict disciplinarian.
Cooke spoke of a time when dedicated teachers knew each student and visited homes to get to know the families.
And there was a waiting list for those wishing to send their girls to the school.
"People realised the school maintained high standards of discipline with care.
"Many who did not live around the area also insisted on sending their daughters to the school,'' she said
In the 1980s, development crept in and exposed many colonial schools to heavy traffic and pollution, she said.
"Surrounded by shopping malls and entertainment centres, the old location made it difficult for many students to concentrate on their studies and travel to school.''
The BBGS was relocated to Taman Shamelin in Cheras late last year and renamed SM Seri Bintang (Utara).
The present building at the end of Jalan Bukit Bintang is unoccupied. It has been sold to a developer for a highrise project.
Cooke enjoys living in the city but despite the massive development there is much room for improvement in public amenities.
Citing the condition of toilets, as an example, she said it showed an appalling lack of civic-mindedness on the part of the public.
"Any tourist to a country would first look at this and if it is not up to the mark, no amount of natural attractions, will bring them here.''
Safety in Kuala Lumpur was also deteriorating.
It had become especially unsafe for elderly people to carry cash as muggings and snatchings were becoming common, she added.
In conclusion, Cooke pointed out that town planners should consider the architectural heritage of a country, so schools would not be swallowed up by skyscrapers and forced to relocate.
"Old schools could be converted into cultural or art centres which are more in harmony with its architecture,'' she added.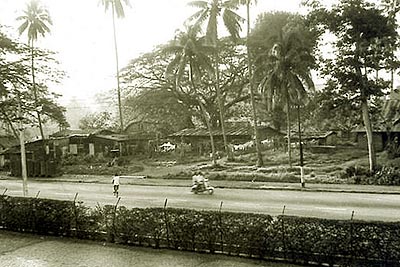 EARLY 20th CENTURY... the area fronting the Bukit Bintang Girls School was a vacant plot which was gradually populated by the Chinese community.