Last-ditch move to preserve building
By Izatun Shari
KUALA LUMPUR: More than 1,000 past and present Bukit Bintang Girls' School students signed a petition to make a final plea to the owner of the school's old site to preserve the school's facade.
During an emotional farewell gathering at the old school grounds in Jalan Bukit Bintang here yesterday, former and current students sang their school anthem and raised its flag for the last time.
A former student known only as Alena, 54, from the Class of 1965 called on the authorities to ensure the school's front portion was retained as its attractive architectural design would enhance its commercial value.
"Tearing down the whole building will be contrary to the government's call to preserve heritage buildings.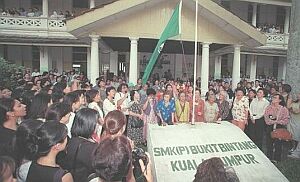 THE LONG GOODBYE ... present and former students raising their school flag for the last time at the old school grounds in Kuala Lumpur Sunday.

"In the name of development, there has to be a balance between the old and the new. Otherwise, there will be nothing left for future generations to remind them of Kuala Lumpur's past glory."
Former Miss Malaysia and radio deejay, Yasmin Yusuf, who studied at the school from 1966 to 1969, said several parts of the building were worthy of conservation.
"It has the finest architectural design that can be integrated into the new development.
Later at a press conference, Malaysian Architectural Association vice-president Lillion Tay appealed to owners and developers to reconsider demolishing the whole building as its front portion was a "fine piece of Kuala Lumpur's architectural heritage".
She said the association would present the written petition to the developer and relevant authorities.